Dozens of Indian turtles die in suspected poisoning

AFP
Deliberate poisoning is likely to blame for the death of dozens of turtles at a lake near Mumbai, Indian wildlife experts told AFP Sunday.
Conservation workers were alerted to the incident after a local politician asked them to investigate a foul smell around the body of water in Kalyan, about 50 kilometres (30 miles) east of India's entertainment capital.
Suhas Pawar of the Wild Animal and Reptile Rescue conservation group said 57 Indian flapshell turtles had been killed while another six were rescued.
He told AFP that locals likely killed the reptiles to stop them from eating fish they were illegally breeding in the lake.
"Everything is being investigated now, a post-mortem and scientific analysis will reveal the exact cause of these deaths," Pawar said.
He added that Covid-19 restrictions over the past two years had likely led to a surge in the local turtle population.
"Restrictions on human activity likely increased the fish stocks at the lake and these turtles were now growing in numbers by feeding on them, which angered some locals," Pawar said.
Indian flapshell turtles are not particularly rare but are a protected species under the Wildlife Protection Act.
Russian soldier in Ukraine court for first war crimes trial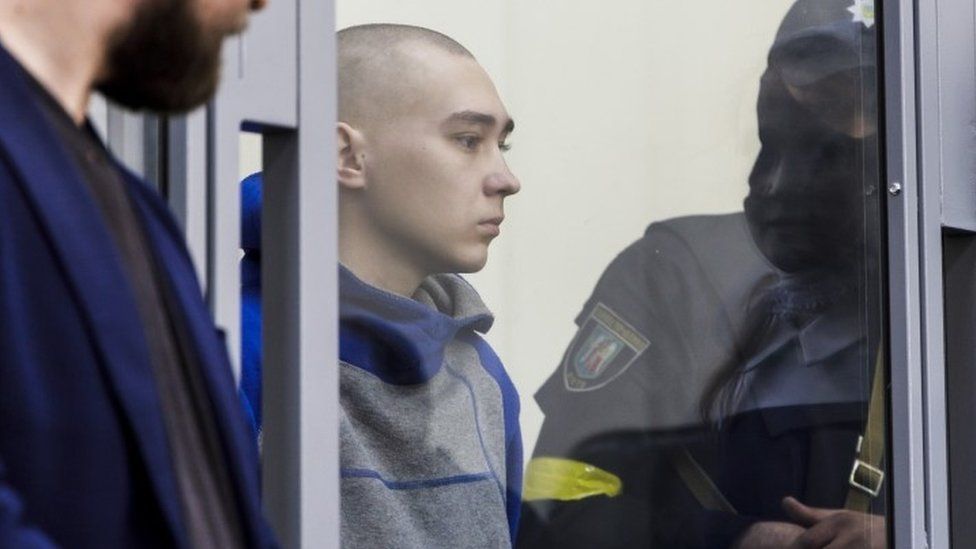 AFP
A Russian soldier accused of killing a civilian during Moscow's invasion of Ukraine appeared in court in Kyiv on Friday ahead of the first war crimes trial since the start of the offensive.
Vadim Shishimarin, 21, was brought to court for a preliminary hearing, accused of killing an unarmed 62-year-old civilian, footage distributed by local media showed.
Shishimarin, with a shaved head, wore a grey and blue hoodie and was placed in the defendant's box, in a video post by Ukrainian media.
He faces possible life imprisonment on charges of war crimes and premeditated murder.
The trial marks a significant moment for Ukraine, where Russian forces have been accused of killing hundreds of civilians since the war began on February 24.
Shishimarin is accused of firing an automatic rifle from a car window, killing the civilian to prevent him from serving as a witness to a carjacking, Ukrainian prosecutors said earlier this week.
Prosecutor Yaroslav Ushchapivskiy told privately-owned Ukrainska Pravda that Shishimarin had admitted his guilt and agreed to cooperate with the investigation.
After his convoy was hit in northern Ukraine on February 28, Shishimarin joined four other fleeing soldiers and stole a car from outside the village of Chupakhivka, Ukraine says.
The civilian, who was not named, was riding his bicycle on the side of the road not far from his home when the alleged theft took place, according to prosecutors.
"One of the military servicemen ordered the accused to kill a civilian so that he would not report them," according to a statement from prosector Iryna Venediktova's office Thursday.
"The man died on the spot just a few dozen metres (yards) from his home," it added.
Western countries have repeatedly accused Russian troops of committing war crimes in Ukraine.
The UN Human Rights Council voted overwhelmingly on Thursday — in a session boycotted by Russia — to probe allegations of atrocities in the Kyiv, Chernigiv, Kharkiv and Sumy regions.
International Criminal Court (ICC) teams are also investigating possible mass atrocities, including in the Kyiv suburb of Bucha, where at least 20 bodies were discovered in April.
Russia advises against travel to UK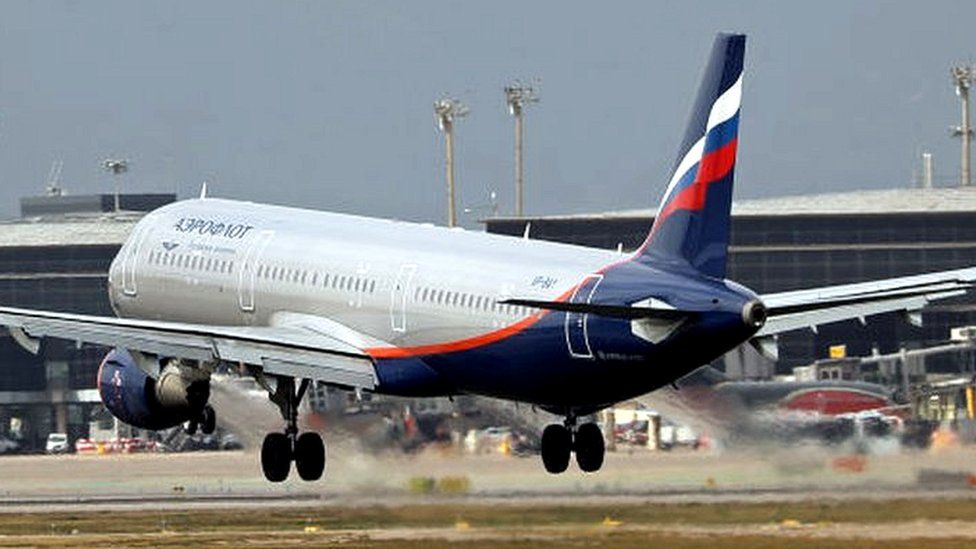 AFP
Moscow on Friday advised its citizens against travel to the United Kingdom, citing London's "unfriendly" stance as well as huge delays in visas for Russians.
"In order to avoid financial losses and other possible problems, we recommend that Russian citizens refrain, if possible, from travelling to the UK and trying to obtain British visas," the Russian foreign ministry said.
It added that it will "act in the same way" with British citizens until the situation improves.
The ministry said it received "numerous complaints from Russian citizens that it has become virtually impossible or extremely difficult for them to obtain a UK visa" of any category.
Britain's visa service "gives priority to the processing of visa applications for Ukrainian refugees," the foreign ministry in Moscow added, also pointing out that Russians are unable to pay their visa fees using Mastercard of Visa cards issued in Russia.
The ministry said such an approach "contradicts all previously reached Russian-British agreements on consular issues" and "can only be described as a politicised infringement of the rights of Russian citizens".
Britain has been part of an international effort to punish Russia with asset freezes, travel bans and economic sanctions, since President Vladimir Putin moved troops into Ukraine on February 24.
On Friday, Britain announced new sanctions targeting 12 members of Putin's "inner circle", including Alina Kabaeva, a former Olympic gymnast who the UK government said was "alleged to have a close personal relationship with Putin".
Zelensky says Macron talking to Putin 'in vain'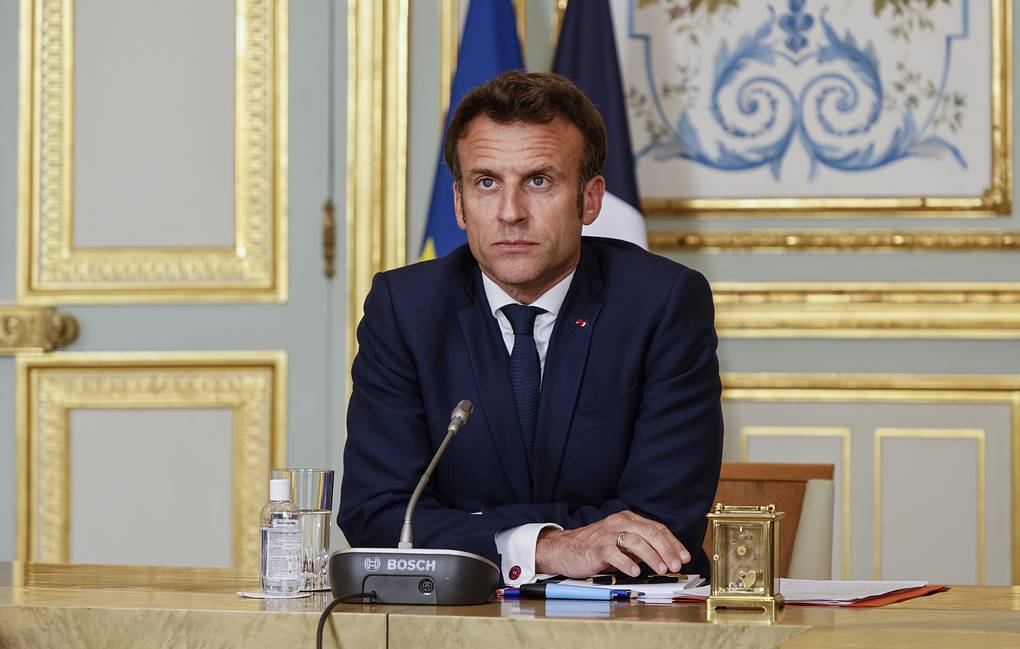 AFP
Ukrainian President Volodymyr Zelensky believes that French leader Emmanuel Macron is trying "in vain" to have a constructive dialogue with Russian President Putin, according to an interview transcript released by Kyiv Friday.
"We must not look for a way out for Russia, and Macron is doing it in vain," Zelensky told Italian television Rai 1, according the Ukrainian president's Telegram channel.
"I know he wanted to get results from mediation between Russia and Ukraine, but he didn't get any," Zelensky said.
Moscow, he said, would not seek any end to the fighting "until Russia itself wants and understands that it needs" this.
The Elysee told AFP on Friday that Marcon had "never discussed anything with Vladimir Putin without the agreement of President Zelensky".
"He has always said that it is up to the Ukrainians to decide the terms of their negotiation with the Russians."
The French leader said earlier this week that Russia and Ukraine would have to come to a negotiated truce and that peace efforts would not be served by Russia's "humiliation".
Zelensky said that "some European leaders think we need to find a way of talking with Putin".
"We have been looking for them for years. And today, these routes are littered with bodies, bodies of our people," the Ukrainian leader added.
Zelensky however repeated his offer to speak with Putin directly but described talks with Russian as "no longer possible".
"Today, the stage when we could sit down with Russia has passed."
Macron is one of the few Western leaders to speak to Putin since Moscow moved troops into Ukraine on February 24, spending hours on telephone calls trying to negotiate a resolution to the conflict.
Putin on Friday spoke with German Chancellor Olaf Scholz and insisted that Russia was fighting "Nazi ideology" in Ukraine.